Atarax (Hydroxyzine) - Treat anxiety disorders and allergic skin reactions
Atarax 25 mg tablets contain the active ingredient hydroxyzine, which is a type of medicine called a sedating antihistamine.
Hydroxyzine is used as a sedative to treat anxiety and tension. It is also used together with other medications given for anesthesia. Hydroxyzine may also be used to control nausea and vomiting. Hydroxyzine is also used to treat allergic skin reactions such as hives or contact dermatitis.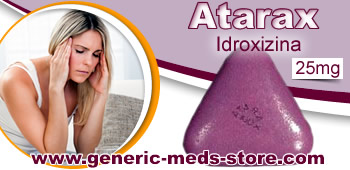 Atarax Dosage
The Atarax dosing is available as a liquid, tablet or a disintegrating tablet that will dissolve inside your mouth. Hydroxyzine medication comes in form of Atarax tablets which are Atarax 25mg, Atarax 10mg, Atarax 50mg and Atarax syrup. On http://generic-meds-store.com Atarax can be bought in 25 mg, tablet form.
How to take Atarax
The dose of Atarax prescribed and how often to take the medicine depends on the age of the person taking it, the condition being treated and how well it responds. It is important to follow the instructions given by your doctor.
Atarax tablets should be taken with a drink of water. They can be taken either with or without food.
The medicine should be taken for as short a time as possible. Do not exceed the dose prescribed by your doctor.
Important information about Atarax
If a person is allergic to a drug like hydroxyzine it is advisable not to use Atarax or if one is pregnant. Atarax medicine when taken can impair a person's reactions or thinking so one should be careful if such a person will engage in any activity that requires one to be alert like driving. Also inform your health provider if you are suffering from kidney disease, liver disease or seizure disorder. Your doctor should be informed to ascertain your safety before using Atarax if a person has conditions like thyroid disorder, glaucoma, epilepsy, high blood, stomach ulcer, asthma, breathing problem or emphysema, problems with urination etc. Using Atarax medicine when pregnant without telling your doctor could harm the unborn baby so it is very important to make sure your doctor is aware before you start taking the drug. Whether hydroxyzine can harm an infant or if it passes into breast milk is not yet ascertained so ensure you tell your health provider if you are breastfeeding an infant.
Storage
Keep out of the reach of children.
Store at room temperature between 15 and 30 degrees C (59 and 86 degrees F). Keep container tightly closed. Throw away any unused medicine after the expiration date.