Viagra, Cialis and Levitra – which is best?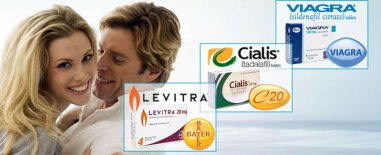 What is Viagra?
Viagra is the most well-known of the three as it has been around for over 15 years. This means that a lot is known about its effects and side effects. It works within an hour of taking a tablet, and is best taken on an empty stomach. The effects of Viagra will last for four to six hours.
What is Levitra?
Levitra will last for a similar amount of time as Viagra (four to six hours). The main difference to Viagra is that Levitra tends to be less affected by food or alcohol so can be taken with meals. There is also some evidence that Levitra is more effective in diabetics than other erectile dysfunction medicines.
What is Cialis?
The effects of Cialis last much longer than those for Viagra or Levitra (up to 36 hours) so many men prefer it as involves less planning. The downside is that if you do experience side effects these can last for longer too.
Like Levitra, Cialis is not affected much by food, so can be taken after a meal. Alcohol, however, may reduce its effects.
Is Viagra, Cialis or Levitra best for me?
Different erectile dysfunction medicines suit different people, but it is difficult to tell which one will be best for you until you have tried them all.
While a particular erectile dysfunction medicine may not work for you first time round, we recommend taking it at least eight times before giving up and trying another. This is because it can often take this long to determine whether or not a medicine is right for you.
How effective are Viagra, Cialis and Levitra?
Viagra, Cialis and Levitra have all been shown to be effective in 60-70% of men with erectile dysfunction. However, it is possible that one medicine will be more or less effective than the others, and therefore it is best to initially try out all three to see which is best.
What are the side effects of Viagra, Cialis and Levitra?
All three have similar side effects – headaches, stuffy nose, facial flushing, stomach ache or back pain being the most common. Some men who have had bad side effects with, say, Viagra will have fewer with Levitra or Cialis, but similarly some find the prolonged side effects of Cialis troubling.
Viagra, Cialis and Levitra should not be taken by men who take medicines or recreational drugs containing nitrates. Cialis should not be taken by men who are on medicines called alpha blockers which are sometimes used to treat prostate problems or high blood pressure. Men who take alpha blockers can use Viagra or Levitra but must allow at least a six hour gap between taking the alpha blocker and Viagra or Levitra.
How do Viagra, Cialis and Levitra work?
Viagra, Levitra and Cialis all work in a similar way. They all relax the blood vessels which supply blood to the penis, meaning that more blood can get there when aroused. These medicines are not aphrodisiacs, so you will still need to be sexually stimulated in order to get an erection.