Effectiveness of Cipralex Entact (Escitalopram) in the Treatment of Major Depressive and Anxiety Disorders
How does this medication work? What will it do for me?
Cipralex Entact Escitalopram 10 mg belongs to the group of medications called selective serotonin reuptake inhibitors (SSRIs). It is used to treat depression, obsessive-compulsive disorder (OCD), and generalized anxiety disorder (GAD). It works by increasing levels of a neurotransmitter called serotonin in the brain. Increased serotonin levels can lead to an improved mood.
The medication usually begins to work within 2 to 4 weeks. However, it may take several weeks of treatment before the full effects are seen.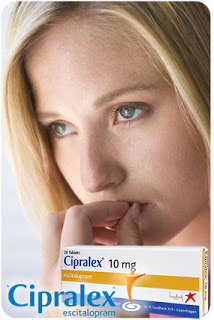 Do not give this medication to anyone else, even if they have the same symptoms as you do. It can be harmful for people to take this medication if their doctor has not prescribed it.
How should I use this medication?
The usual dose of Escitalopram is 10 mg/day for depression and 10-20 mg/day for anxiety, preferably at the same time each day. The dose may need to be decreased in the elderly and in people with liver problems. Escitalopram is taken once a day and can be taken either in the morning or evening, with or without food. The tablet should be swallowed whole (not chewed) with a glass of water.
It is important to take this medication exactly as prescribed by your doctor. If you miss a dose, skip the missed dose and continue on with your regular dosing schedule. Do not take a double dose to make up for a missed one. If you are not sure what to do after missing a dose, contact your doctor or pharmacist for advice.
Who should not take this medication?
Do not take this medication if you:
- are allergic to escitalopram, citalopram, or any ingredients of the medication
- have a condition known as congenital long QT syndrome or have a heart rhythm disturbance called QT prolongation
- are taking the medication pimozide
- have taken a MAO inhibitor medication (e.g., phenelzine, tranylcypromine, moclobemide) in the past 2 weeks – MAO inhibitors should not be taken until at least 2 weeks after stopping treatment with escitalopram
What are the possible side effects of Cipralex?
Many medications can cause side effects. The most common side effects of Escitalopram are dry mouth, nausea, sleep difficulties, sweating, fatigue and sexual problems.
Less frequently experienced side effects of Cipralex Entact (Escitalopram) 20 mg include: headache, dizziness, irritability and lethargy; vivid dreams; difficulty concentrating; chest pain, high blood pressure or erratic heart rhythm; diarrhea, constipation, increased or decreased appetite, bleeding from the gastrointestinal tract; runny nose, sinus problems and cough; agitation, hallucinations.
How can this medicine affect other medicines?
It is important to tell your doctor or pharmacist what medicines you are already taking, including those bought without a prescription and herbal medicines, before you start treatment with this medicine. Similarly, check with your doctor or pharmacist before taking any new medicines while taking this one, to ensure that the combination is safe.
Since caffeine, alcohol, the nicotine from cigarettes, or street drugs can affect the action of many medications, you should let your prescriber know if you use them.