Xenical (Orlistat) Frequently Asked Questions
Why is this medication prescribed?
Xenical (Orlistat) 60 / 120 mg is used with an individualized low-calorie, low-fat diet and exercise program to help people lose weight. Xenical (Orlistat) is used in overweight people who may also have high blood pressure, diabetes, high cholesterol, or heart disease. Xenical is also used after weight-loss to help people keep from gaining back that weight. Xenical is in a class of medications called lipase inhibitors. It works by preventing some of the fat in foods eaten from being absorbed in the intestines. This unabsorbed fat is then removed from the body in the stool.
How does Xenical work?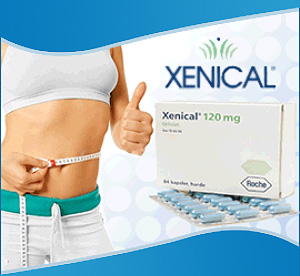 Xenical is a fat eliminator. In other words, it blocks some of the fat that is in your food from being digested and absorbed by your body. This is the "Xenical Action". The undigested fat is eliminated in your bowel movements as oil thus preventing it from forming fatty deposits around your waist, hips and thighs.
How should this medicine be used?
Generic Xenical (Orlistat) comes as a capsule to take by mouth. It is usually taken three times a day with each main meal that contains fat. Take Xenical during a meal or up to 1 hour after a meal. If a meal is missed or does not have fat, you may skip your dose. Follow the directions on your prescription label or the package label carefully, and ask your doctor or pharmacist to explain any part you do not understand. Take orlistat exactly as directed. Do not take more or less of it or take it more often than prescribed by your doctor or stated on the package.
What are the side effects of Xenical and when should it not be used?
Xenical can be effective when used with a sensible diet and exercise regime. However, like any drug it does have side effects and is not advisable for the following:
- flatulence (gas)
- increased urgency to open the bowels (diarrhoea)
- oily discharge or fatty stools
- abdominal distension (bloating) and pain
- faecal incontinence
Contraindications for using Xenical:
- Chronic malabsorption problems/syndrome
- Cholestasis (problems with normal bile flow from liver to intestines)
- Gallbladder problems
- Anorexia
- Pregnancy or planned pregnancy
- Kidney stones
- Diabetes
- Breastfeeding
How to store Xenical ?
Keep this medication in the container it came in, tightly closed, and out of reach of children. Store it at room temperature and away from excess heat, moisture (not in the bathroom), and light. Throw away any medication that is outdated or no longer needed. Talk to your pharmacist about the proper disposal of your medication.