Treat depression effectively with Fluox (Fluoxetine / Lovan)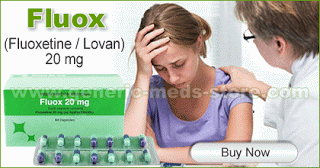 Fluox (Fluoxetine / Lovan) 20 mg belongs to a class of medications called selective serotonin reuptake inhibitors (SSRIs). It is used for the treatment of depression and helps to elevate mood. Fluoxetine is also used to reduce or eliminate the symptoms of obsessive-compulsive disorder (OCD) as well as to treat the eating disorder, bulimia nervosa.
Selective serotonin reuptake inhibitors work by increasing the amount of a neurotransmitter, called serotonin, which is available in certain parts of the brain. Although you may start feeling better within a few weeks of treatment, the full effects of the medication may not be evident until several weeks of treatment have passed.
How to take fluoxetine?
Take Fluoxetine at the same time each day. It is best taken in the morning.
Swallow the whole capsule with a glass of water. Do not open or chew.
If you have problems swallowing capsules, let your doctor know as you could be prescribed dispersible tablets which are dissolved in water and then swallowed.
You can take Fluoxetine with or without food.
Limit or avoid drinking alcohol while you are taking Fluoxetine.
If you forget to take your dose, wait until the next day and take your normal dose then. Do not take double the dose.
Keep taking Fluoxetine every day. It may take 4 to 6 weeks before you experience the full benefits of fluoxetine.
Do not stop taking Fluoxetine suddenly; speak to your doctor, nurse or pharmacist before stopping.
Who should NOT take this medication?
Do not take Fluoxetine if you:
- are allergic to Fluoxetine or any ingredients of the medication
- have taken a MAO inhibitor (e.g., phenelzine, tranylcypromine) or thioridazine within the past 14 days
Do not take MAO inhibitors or thioridazine until at least 5 weeks after you stop your treatment with Fluoxetine.
Can I take Prozac with other medicines?
It is important to tell your doctor or pharmacist what medicines you are already taking before you start treatment with this medicine. Similarly, check with your doctor or pharmacist before taking any new medicines while taking this one, to make sure that the combination is safe.