Ribavirin for treatment of hepatitis C virus infection !
RIBAVIRIN Virofix 200 mg is a medication used to treat chronic hepatitis C virus infection. It is used in combination with other medications to cure people of the hepatitis C virus.
Ribavirin Side Effects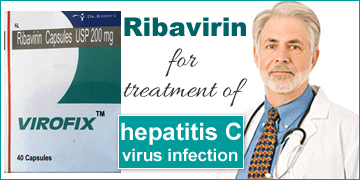 Get emergency medical help if you have any of these signs of an allergic reaction: hives; difficulty breathing; swelling of your face, lips, tongue, or throat.
Stop using ribavirin and call your doctor at once if you have a serious side effect such as:
- problems with your vision;
- fever, chills, body aches, flu symptoms;
- severe pain in your upper stomach spreading to your back, nausea and vomiting, fast heart rate;
- stabbing chest pain, wheezing, feeling short of breath;
- severe depression, hallucinations, thoughts of suicide or hurting yourself;
- chest pain or heavy feeling, pain spreading to the arm or shoulder, nausea, sweating, general ill feeling; or
- pale or yellowed skin, dark colored urine, easy bruising or bleeding, confusion, or unusual weakness.
Less serious side effects may include: headache; muscle pain; dry mouth; nausea; vomiting, stomach pain, loss of appetite; weight loss; feeling tired or irritable; anxiety, mood changes; or pain, swelling, or irritation where the interferon injection was given.
Ribavirin Interactions
Ribavirin can interact with other medications, herbs, or vitamins you might be taking. That's why your doctor should manage all of your medications carefully. If you're curious about how this drug might interact with something else you're taking, talk to your doctor or pharmacist.
Food Interactions
Don't take ribavirin with a high fat meal. This can increase the amount of the drug in your blood. Take your medication with a low-fat meal.
Ribavirin Usage
- Take ribavirin tablets, capsules exactly as your healthcare provider tells you. Your healthcare provider will tell you how much ribavirin to take and when to take it.
- Take ribavirin capsules, tablets with food.
- Take ribavirin capsules whole. Do not open, break, or crush ribavirin capsules before swallowing. If you cannot swallow ribavirin capsules whole, tell your healthcare provider.
- If you miss a dose of ribavirin tablets, capsules take the missed dose as soon as possible during the same day. Do not double the next dose. If you have questions about what to do, call your healthcare provider.