Generic Clomid for Treatment of Female Infertility
Generic Clomid 50 mg is used to stimulate ovulation by releasing hormones necessary for ovulation to occur. It is used to treat female infertility. This drug may also be used for other purposes than to treat female infertility.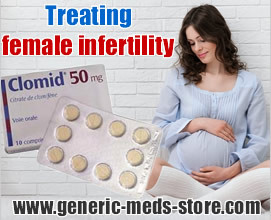 Important information
The use of the medicine should not be made if you are expecting a child. Besides, if you suffer from liver or kidney disease, having a thyroid disorder, an ovarian cyst, or abnormal vaginal bleeding then also the use of medicine is not encouraged.
What should my health care professional know before I take this medicine?
They need to know if you have any of these conditions:
– adrenal gland disease
– blood vessel disease or blood clots
– cyst on the ovary
– endometriosis
– liver disease
– ovarian cancer
– pituitary gland disease
– vaginal bleeding that has not been evaluated
– an unusual or allergic reaction to clomiphene, other medicines, foods, dyes, or preservatives
– pregnant (should not be used if you are already pregnant)
– breast-feeding
What is the protocol for taking Clomid?
– Clomid is generally started early in the menstrual cycle and is usually taken for 5 days either from day 3 through 7 or from day 5 through day 9.
– Day one is counted as the first day of menstrual bleeding.
– Clomid is usually started at a dose of one tablet, or 50mg daily.
Your doctor will give you a start date for this medication and will give you instructions on proper use. Do not take your medicine more often than directed.
What if I miss a dose?
If you miss a dose, take it as soon as you can. If it is almost time for your next dose, take only that dose. Do not take double or extra doses.
How to store the drug?
Keep out of the reach of children.
Store at room temperature between 15 and 30 degrees C (59 and 86 degrees F). Protect from heat, light, and moisture. Throw away any unused medicine after the expiration date.