Treat major depressive disorder with Celexa (Citalopram Hydrobromide)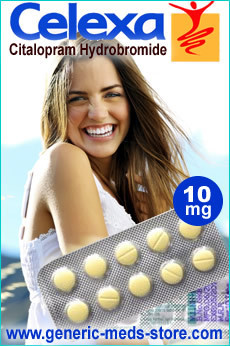 Celexa (Citalopram Hydrobromide) is an antidepressant and SSRI — Selective Serotonin Reuptake Inhibitor. SSRIs work by blocking reuptake transporters for the chemical serotonin, increasing the effect of serotonin in the brain.
The effects of this medication can usually be seen in two to three weeks, though some patients may require four or more weeks to feel better.
Uses of Citalopram
Citalopram is primarily used to treat depression in adults. It is also prescribed for social anxiety disorder (SAD), panic disorder, obsessive-compulsive disorder (OCD), Huntington"s disease and premenstrual dysphoric disorder (PMDD). Citalopram may also be helpful in treating irritable bowel syndrome (IBS), diabetic peripheral neuropathy (DPN), premature ejaculation, eating disorders, alcoholism and pathologic crying after a stroke.
Dosage and instructions
The usual dosage of Citalopram is 20-40 mg daily. It is taken once a day, either in the morning or the evening and can be taken with our without food.
Most people begin taking 20 mg of Citalopram daily. The dose can be increased to 40 mg after a week if necessary. The maximum recommended dose is 60 mg/day.
Elderly people and people with liver disease may need a lower dose of Citalopram and may start with 10 mg/day.
If Citalopram causes excessive drowsiness, it should be taken in the evening.
Contraindications
Celexa should not be used for people with the following medical conditions:
- Kidney or liver disease — dosage may need to be lowered
- Seizures or a history of seizures
- Mania or a history of mania
Side Effects
Some common side effects reported with Citalopram hydrobromide medicine include:
- nausea,
- dry mouth,
- somnolence,
- increased sweating,
- insomnia,
- dizziness,
- diarrhea,
- fatigue,
- tremor,
- anorexia,
- ejaculation disorder.
Most of these side effects get better after you have taken the medication for a while.
Storage
Keep this medication in the container it came in, tightly closed, and out of the reach of children. Store it at room temperature and away from excess heat and moisture (not in the bathroom). Throw away any medication that is outdated or no longer needed. Talk to your pharmacist about the proper disposal of your medication.