Propranolol and Blood Pressure
Why is this medication prescribed?
Propranolol is used to treat high blood pressure, irregular heart rhythms, pheochromocytoma (tumor on a small gland near the kidneys), certain types of tremor, and hypertrophic subaortic stenosis (a heart muscle disease). It is also used to prevent angina (chest pain), migraine headaches, and to improve survival after a heart attack. Propranolol is in a class of medications called beta blockers. It works by relaxing blood vessels and slowing heart rate to improve blood flow and decrease blood pressure.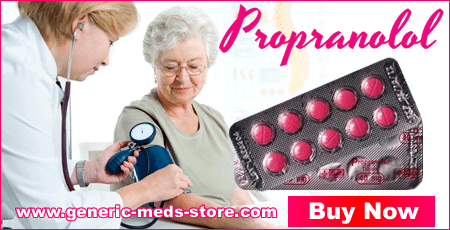 What should I discuss with my healthcare provider before taking propranolol?
You should not use this medication if you are allergic to propranolol, if you have asthma, a slow heart rate, or a serious heart condition such as "sick sinus syndrome" or "AV block" (unless you have a pacemaker).
To make sure you can safely take propranolol, tell your doctor if you have any of these other conditions:
– a muscle disorder;
– bronchitis, emphysema, or other breathing disorders;
– diabetes (propranolol can make it harder for you to tell when you have low blood sugar);
– low blood pressure;
– congestive heart failure;
– depression;
– liver or kidney disease;
– a thyroid disorder;
– pheochromocytoma; or
– problems with circulation (such as Raynaud's syndrome).
What should I avoid while taking propranolol?
– Avoid drinking alcohol. It may increase your blood levels of propranolol.
– Avoid getting up too fast from a sitting or lying position, or you may feel dizzy. Get up slowly and steady yourself to prevent a fall.
What side effects can this medication cause?
– Cardiovascular: bradycardia, congestive heart failure, hypotension, Raynaud's syndrome.
– Central nervous system: light-headedness, mental depression, insomnia , vivid dreams, disorientation, memory loss.
– Gastrointestinal: nausea, vomiting, abdominal pain, cramping, diarrhea, constipation, bowel ischemia.
– Allergic: fever, rash, laryngospasm, thrombocytopenia.
– Respiratory: bronchospasm.
– Hematologic: bone marrow suppression, bleeding under the skin.
How to store the drug?
– Propranolol is stored at room temperature 25°C (77°F).
– Brief excursion period is permitted to 15-30°C (59-86°F).
– Store the medicine away from direct sunlight, excess heat and moisture.
– The drug should be kept away from children and pets.