Lexapro (Escitalopram) in the treatment of depression and generalized anxiety disorder
Lexapro (escitalopram oxalate) is a selective serotonin reuptake inhibitor (SSRI) for oral administration.
Lexapro is indicated for the acute and maintenance treatment of major depressive disorder in adults and in adolescents 12 to 17 years of age, and for the acute treatment of generalized anxiety disorder (GAD) in adults.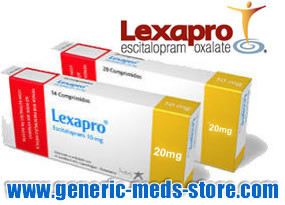 People who should take extra care with Escitalopram
Make sure you tell your doctor if you have, or have had in the past, any of the following conditions (you might need to take extra precautions, or another medicine might be more suitable):
- epilepsy or reduced seizure threshold
- bipolar disorder
- stomach bleeding
- liver problems.
Get advice, either directly from your doctor or from a specialist information line, about the risks of taking antidepressants if you are pregnant, breastfeeding or thinking about becoming pregnant.
Common Side Effects
Dermatologic: Diaphoresis
Gastrointestinal: Abdominal pain, Constipation, Diarrhea, Indigestion, Nausea, Vomiting, Xerostomia
Neurologic: Dizziness, Headache, Insomnia, Somnolence
Reproductive: Disorder of ejaculation, Impotence, Orgasm incapacity, Reduced libido
Other: Fatigue

Serious Side Effects
Psychiatric: Depression worsening, Suicidal thoughts, Suicide
Other: Serotonin syndrome
Get emergency medical help if you have any of these signs of an allergic reaction: skin rash or hives; difficulty breathing; swelling of your face, lips, tongue, or throat.
Drug Interactions
Escitalopram can interact with other medications, vitamins, or herbs you may be taking. An interaction is when a substance changes the way a drug works. This can be harmful or prevent the drug from working well.
To help avoid interactions, your doctor should manage all of your medications carefully. Be sure to tell your doctor about all medications, vitamins, or herbs you're taking. To find out how this drug might interact with something else you're taking, talk to your doctor or pharmacist.